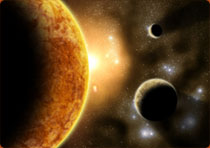 Help spread the word!

Download a flyer
and give it to your friends
Sign up for our eNewsletter
Philip K. Dick Award
The Philip K. Dick Award is presented annually with the support of the Philip K. Dick Trust for distinguished science fiction published in paperback original form in the United States. The award is sponsored by the Philadelphia Science Fiction Society and the Philip K. Dick Trust and the award ceremony is sponsored by the NorthWest Science Fiction Society. Last year's winner was NOVA SWING by M. John Harrison (Bantam Spectra) with a special citation to FROM THE NOTEBOOKS OF DR. BRAIN by Minister Faust (Del Rey). The 2008 judges are Tobias Buckell, M. M. Buckner (chair), Walter Hunt, Rosemary Kirstein, and William Senior.
First prize and any special citations will be announced on Friday, April 10, 2009 at Norwescon 32 at the Doubletree Seattle Airport Hotel, SeaTac, Washington.
The nominees for 2008 are:
The judges for the 2009 Philip K. Dick award will be:
Daniel Abraham (chair)
5925 Woodford Dr NE
Albuquerque, NM 87110-1225
Eileen Gunn
525 19th Ave E
Seattle, WA 98112-4006

Karen Hellekson
16 Rolling Rdg
Jay, ME 04239-7038
Elaine Isaak
34 Hardy Road
Bedford, NH 03110-4914
Marc Laidlaw
15510 NE 153rd St.
Woodinville, WA 98072-8125
For more information, contact the award administration:
David G. Hartwell (914) 769-5545.
Gordon Van Gelder (201) 876-2551
For more information about the Philadelphia Science Fiction Society http://www.psfs.org/
Contact Gary Feldbaum (215) 563-2511
For more information about the Philip K. Dick Trust: www.philipkdick.com
Philip K. Dick Awards
c/o 153 Deerfield Lane
Pleasantville, NY 10570
(914) 769-5545
http://www.philipkdickaward.org